__________________________________________________________________________________________________ 
 __________________________________________________________________________________________________ 
  Goldario is the world's first platform that strives to revolutionize the eco-cycle of mining of precious metals (gold), stones (emeralds), jewellery manufacturing and retail business. This financial instrument is a digitized share in gold and emerald mines and in-house jewellery production for the world market.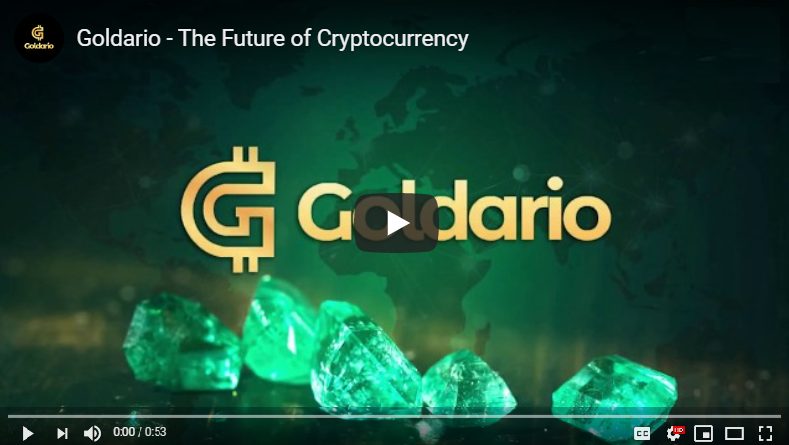 We envision to revolutionize the entire eco-cyle of the jewellery industry by utilizing emerging technologies i.e. blockchain, cryptography, smart contracts, AI and Fintech. We aim to create an ecosystem whereby we make it easy for individuals—whether typical consumers or institutional investors— to invest in businesses which are backed by the complete ecosystem of precious metals, stones and jewellery manufacturing & retail business, while also taking care of security, auditability and liquidity.  
  Goldario aims to be the world's leading platform of choice for consumers and businesses dealing in the jewellery industry. It strives to allow users to obtain and have entitlement over physical mines, jewellery production factories and jewellery retail businesses from across the world, and in doing so, create potential underlying assets backing to Goldario (GLD) Token.  
:: Liquidity and Accessibility-
With trustful exchange of digital assets, Goldario provide users with the opportunity to easily liquidate, access and exchange precious commodities i.e. precious metals and stones through GLD Token, which is exchangeable in a crypto trading exchange and can also be used for peer to peer exchange of value. Built as an ERC-20 token on the Ethereum blockchain, GLD Token can easily be moved or traded anywhere in the world, 24/7.
:: Lower Investment Limits-
Unlike traditional startups or early-stage companies, where entry for a person with low investment is almost impossible, Goldario through tokenization of commodities and its business models offers lower investment minimums.
Goldario is regulated by the Estonia Financial Supervision Authority (EFSA) and its parent company i.e. ESC Management AS is a publicly listed company in Estonia.
:

otential Underlying Business:
Goldario deals in a potential business having expected market valuation of over 480 USD Billion by next 5 years. This way, the native token i.e. GLD Token will capture revenue from the under underlying business activities, helping record growth of value
:

ata transparency-
Traceability and transparency is significant when it comes to various steps involved in the precious metal supply chain. ESC Management AS keeps track of the progress of the companies in which they invest.
:

assive Income-
Get periodic dividends on holding your assets through pre-defined trustful smart contracts. All revenue and profit distribution is monitored and audited by third-party evaluators and auditors, ensuring that token holders get the best returns on their investments. 
  Goldario is a consequence of already successful businesses with established infrastructure in Brazil.To expand the operations across the globe we have devised a concrete plan and an ambitious roadmap set, which we hope to achieve with the collaboration of global investors. A summarized introduction of base businesses is as follows.