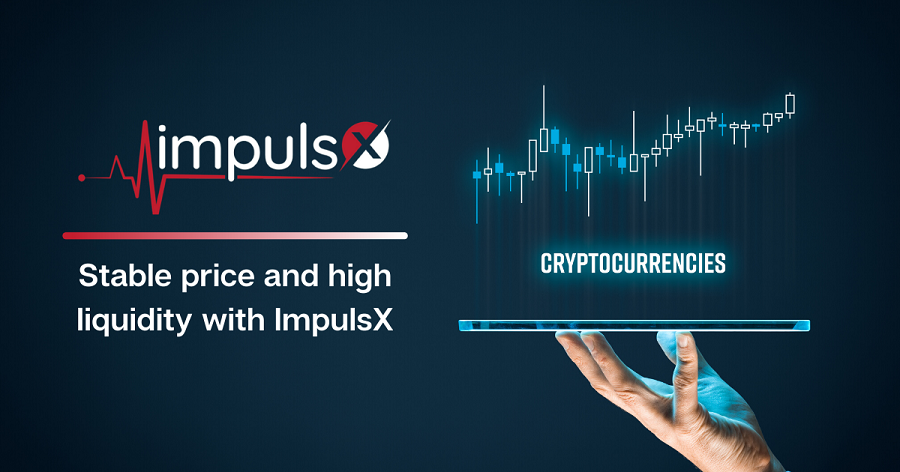 Stable price and high liquidity with ImpulsX
ImpulsX
is a cryptocurrency exchange making use of Global Order Books to facilitate fast trading and high liquidity.
This is how we stand out:
• External order book of OKEx and HitBTC linked for fast trading and high liquidity
• Users from all around the world - 5.5K+
• All major cryptocurrencies supported
• Full satisfaction customer support - 100%
• High-liquidity and Global Order Books (OKEx and HitBTC) 
• Enjoy a stable price and high liquidity by making use of the global trading depth.
• 400 IPX token sign-up bonus
• 250 IPX token for every KYC verified referral
• Best price: Get the best price via our smart routing to OKEx and HitBTC.
• IPX token is running on Eurekacoin blockchain: total supply of 1 billion.
• Buy-back and burn program (40% of net profits).
• Charity program (10% of net profits).
• Airdrop of IPX: earn an extra 200 IPX until 30-04-2020.
• Still in pre-launch, launch will be at the end of March 2020.
IPX token
is the native token of the ImpulsX Exchange. The token is part of the Eureka Network as a token of EurekaCoin (ERK). The EurekaNetwork blockchain will not only be Proof of Stake itself (meaning EurekaCoin in itself can be used to earn passively) but also IPX token will be able to be proof of stake (PoS) in themselves securing their own network.
The
IPX token
will have a total supply of 1,000,000,000 tokens. As this project was created with the help of the Buzzex community, all BZX coin and VMT token holders were able to swap their coins/tokens on a 1:1 ratio to the new IPX token.
The pre-launch has given us a nice view of how the platform is performing and what kind of issues we have to deal with to deliver an excellent experience for all users. At the moment of writing this, we have about 5500 users in total signed up for ImpulsX.
•We will start with our marketing campaigns and these will consist of the following:
•  The building of the social media accounts;
•  Recording of Youtube videos and Youtube advertising;
•  Google and Twitter advertising;
•  Publishing articles on crypto websites.
From the moment we launch (end of March 2020), IPX tokens can be traded and we will also add more coins and token pairs before that. Coin pairs that will be added will be announced soon but these coins/tokens will be listed for sure: IPX, ERK, BTC, ETH, LTC and XRP. All in different coin pairs. From the moment we launch and trading goes live, you can request withdrawals.
A big concern of all exchanges is obviously security. ImpulsX' highest priority is the security of the users' wallets and the security of the platform. That's why we will introduce a system of hot and cold wallets so you can be absolutely sure that your assets are safe on the ImpulsX exchange and at the same time withdrawals can be executed quickly.
The value of the IPX token will be determined by the market, so there is no fixed price for the token. Through our buyback and burn program (40% of the net profit of the platform) we will ensure a shrink of the supply and thus realizing an increase of the price over time. Our partner Eureka Network is introducing several new platforms in the coming months and IPX token will be a form of payment on these platforms. 
10% of the net profit of the ImpulsX platform will be used for charities. We decided to use the 'Eureka Tree of Life Foundation' for this and will be supporting these charities. The 'Eureka Tree of Life Foundation' will support various, ever-growing, self-sustainable Charities and Humanitarian projects globally and we at ImpulsX are proud to be part of this foundation. Later we will let you know how the community can also have a say in the charities by vote.
Сool features that ImpulsX has that could benefit you as a trader:
- Use of Global Order Book to facilitate fast trading and stable pricing;
- Earning free IPX tokens for registering on ImpulsX and performing KYC;
- Earning free IPX tokens for referring new traders who perform KYC;
- By trading on ImpulsX you facilitate the buyback and burn program so your IPX tokens will increase in value over time;
- By trading on ImpulsX you help several charities.
Of course, we will not stop at that and will constantly explore new ways to advertise and bring ImpulsX under attention. If you have any suggestions or ideas to help ImpulsX, please let us know.
• Youtube: youtube.com/channel/UC-rPZkbyaXO_Rz9Vt7sJgUg
Stay tuned for more important updates and get ready for the platform launch!