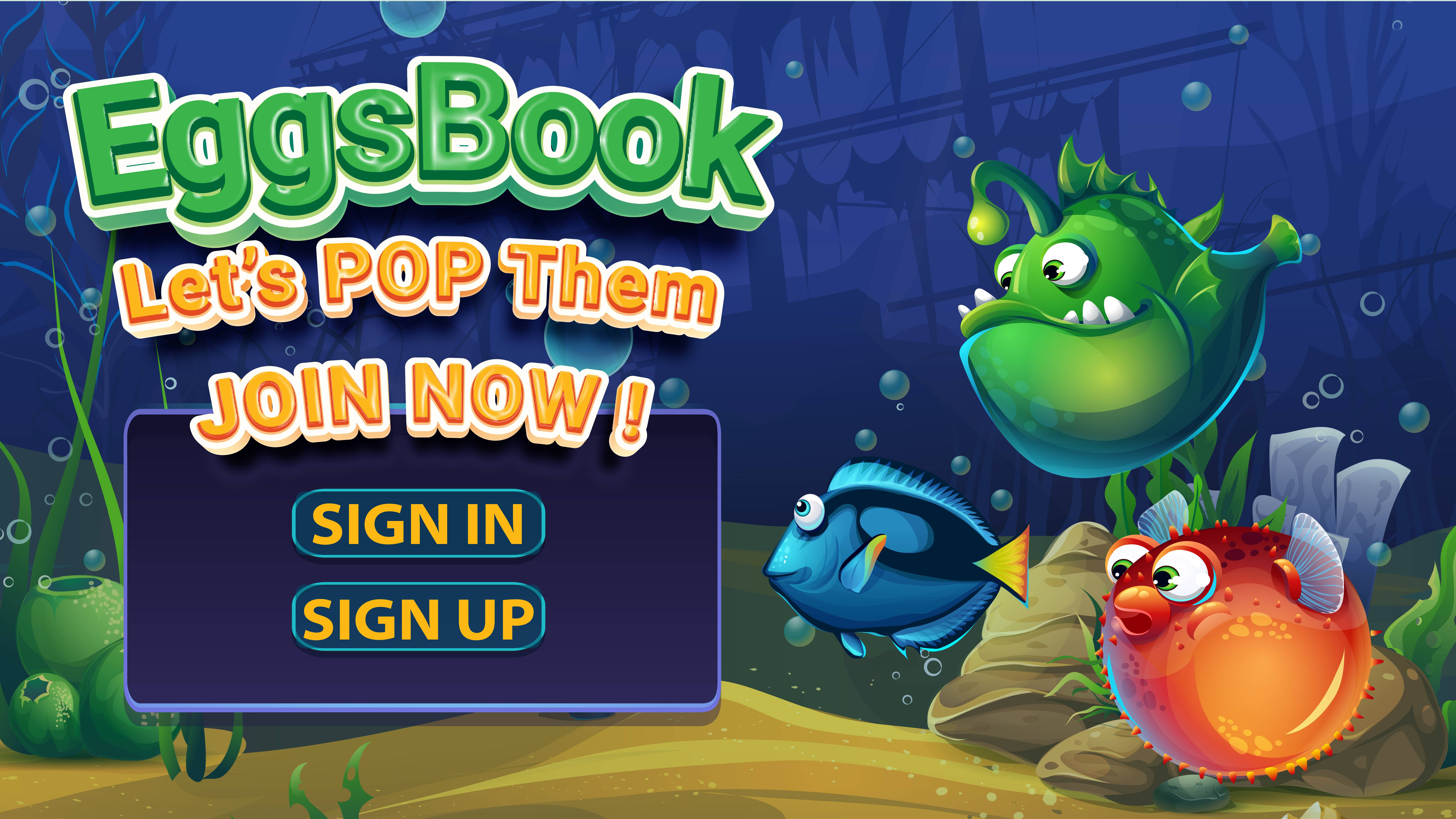 What is EggsBook Token
EggsBook Token (EBP) is an in-game crypto-currency, developed by DAPPS TECHNOLOGY LTD, to be used as a medium of exchange in POP based dApps games. EBP is visualized to be a common payment for every game that developed using our POP protocol.
P.O.P. contributors (a.k.a POP game players) can use this crypto currency to (included but not limited to): Activate license, purchase in-app items, exchange through P2P, trading in exchanges, staking, convert to FIAT money, etc.
EggsBook Token Specification
•
Full name
: Egg Books POP Token
•
Abbreviate
: EBP
•
Token type
: ERC-20
•
Total Supply
: 60,000,000 EBP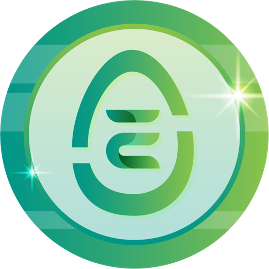 What is POP Protocol
POP (Proof of Play): The algorithms of this protocol allow user of specific entertainment to create and then validate new blocks. By this way, during time that users spend entertaining, they also share their processing resources of their devices.
To do this, we need to have entertainment types that record all of theirs "activities" on the blockchain and allow them to create and to confirm at any time, in order to fulfill certain conditions of the blockchain network.
The entertainments that best suitable for POP are those require to run on a digital device, thought built in applications, are interactive and time consuming. Therefore, games are best suitable for POP protocol.
The Attributes of Game
Based on what have been mentioned above, the game that would be suitable for this algorithm need to have the following traits:
•
Online game
: Very basic idea, the device runs the game needed to be connecting to a blockchain network in other to generate blocks and validate data transaction.
•
Simple to play
: Casual games are seem to be best choices for POP protocol, since it not requite too much gaming skills, so everyone can participate to enjoy the game and contribute to the network.
•
Hard to master
: This trait go together with the above, this make the game more interesting and keep gamer just want to come back and set a new high score.
•
Social Connect
: One fundamental of blockchain is the sharing power, the game that has features such as: Person versus Person (PvP), team gathering, teams competition, and in game communication.
•
Frequently add features
: This is necessary to keep game follow with the market trend, and suite game fans expectation.
•
Licensed
: In other to protect the game from 51% Attack, and to appreciate Game Developers.
•
Filled with mission
: Completing missions daily and weekly makes gamers coming back to play the game. Once a mission is completed, a new block is generated or a transaction is confirmed.
•
Smart Contract and Dapps
: Those are the core elements of POP games, since everything that keeps the game running is blockchain based.
•
Rewarding system
: Same as POW miners or POS stake holders, POP Players are expected to be rewarded for their contribution to the blockchain network. And this is the entire idea of the POP protocol. People come to play the game with the thinking they will be rewarded something, and yes they are.
•
In game currency
: is one of many rewards that the POP Players shall have. Moreover, if this in game Cryptocurrency was built on a strong foundation, it would be a very good asset to invest in, since it has already pushed up the market demand through POP Players.
•
Without device boundary
: The purpose of POP protocol is taking every contribution on processing power of as much device as possible. Therefore, the more devices the game can play on, the better the result. In order to do this, the game require having the cross device playing feature, whereas, POP players can play the game anytime and anywhere, as long as they have their login username and password.
•
Unlimited expandable
: The hunger of the market is limitless, in order to feed it, the game need to be grown toward its limitless potential.
Eggs Book Game Summary
1. POP Players can start to play this game by activating a license, through an action of hatching a digital egg.
2. An egg then become a little fish (or similar creature)
3. POP Player will need to play and feed the fish every day, to a certain period of time, and then the fish will level up.
4. Every day, POP Player will be given certain missions to complete, upon completion, they will be rewarded.
5. Depend on the fish level, it will gain different abilities. One of those abilities is laying new Egg(s).
6. New Egg can be sold as a merchandise or active to become a new fish, (and the cycle repeat)
7. There are some useful abilities of your digital fish, and still updating: Laying egg(s), Raiding other Player's aquariums, Attacking, Guarding, Staking, Racing, and so on.
8. There are many limited time event in game, which Players can take advantage of.
9. There are limitless expanding possibilities.
Developing Roadmap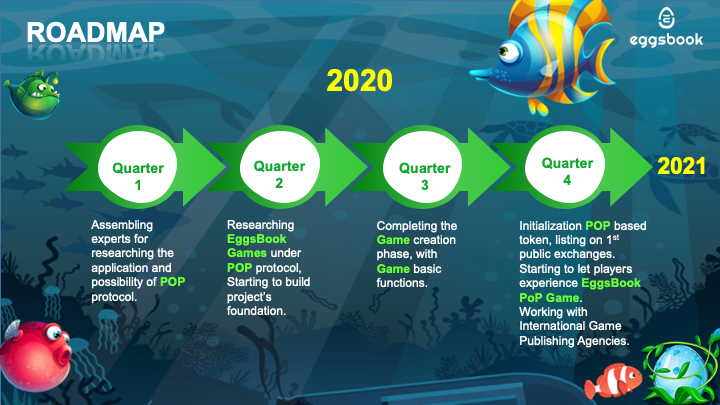 Year 2020
•
Quarter 1
:
    Assembling experts for researching the application and possibility of POP protocol.
•
Quarter 2
:
    Researching Egg Book Games under POP protocol,
    Starting to build project's foundation.
•
Quarter 3
:
    Completing the game creation phase, with in-game basic functions.
•
Quarter 4
:
    Initialization POP based token, listing on 1st public exchanges.
    Starting to let players experience Eggs Book Pop Game.
    Working with International Game Publishing Agencies.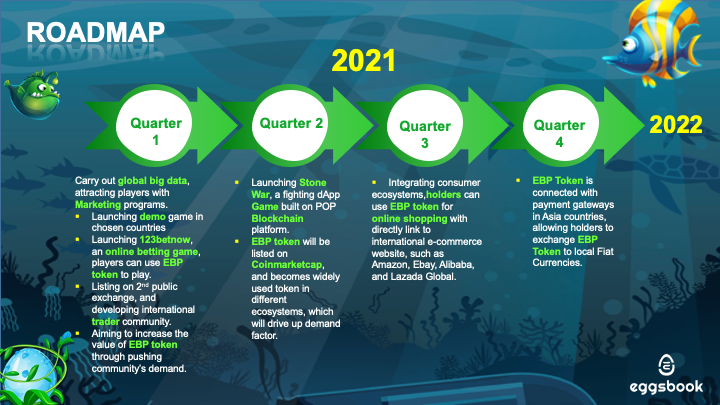 Year 2021
•
Quarter 1
:
    Carry out global big data, attracting players with marketing programs.
    Launching demo game in chosen countries
    Launching 123betnow, an online betting game, players can use EBP token to play.
    Listing on 2nd public exchange, and developing international trader community.
    Aiming to increase the value of EBP tokens through pushing community's demand.
•
Quarter 2
:
    Launching Stone War, a fighting dApp game built on POP blockchain platform.
    EBP token will be listed on Coinmarketcap.com, and becomes widely used token in different ecosystems, which will drive up demand factor.
•
Quarter 3
:
    Integrating consumer ecosystems, token holders can use EBP for online shopping with directly link to international e-commerce website, such as Amazon, Ebay, Alibaba, and Lazada Global.
•
Quarter 4
:
    EBP is connected with payment gateways in Asia countries, allowing holders to exchange EBP to local Fiat Currencies.
Conclusion
The game industry is huge and still growing with countless of possibility. More and more people are choosing gaming as a profession. Gaming is not only entertainment activity. The new definitions of Gaming are: a way of connecting people, a pop culture, an education path, a profession, and a way of making income. The need of market also grows, Gamers nowadays are not only seeking for entertaining, they are seeking a career that can earn them not only money, but also fame, and enjoyment.
On top of that, the blockchain technology is about to come to a booming stage, where every need of the markets is have to do something with transparency, fast, secure, and automatic. Games are the same, when the need of a transparent, fast and secured payment method is everywhere. This will give us an upper hand as we are pioneer in this concept of POP protocol.
Follow us:
✯ Facebook:
http://bit.ly/eggs-book
✯ Tele Group:
https://t.me/eggsbookgroup1
✯ Channel :
https://t.me/eggsbookchannel1
✯ Twitter:
https://twitter.com/EggsbookC
✯ Youtube:
http://bit.ly/eggs-book-project