Reach, speed, cost, scale: Tunde Ladipo shows opportunities for FIs in Nigeria
@KPMG
Fintech Summit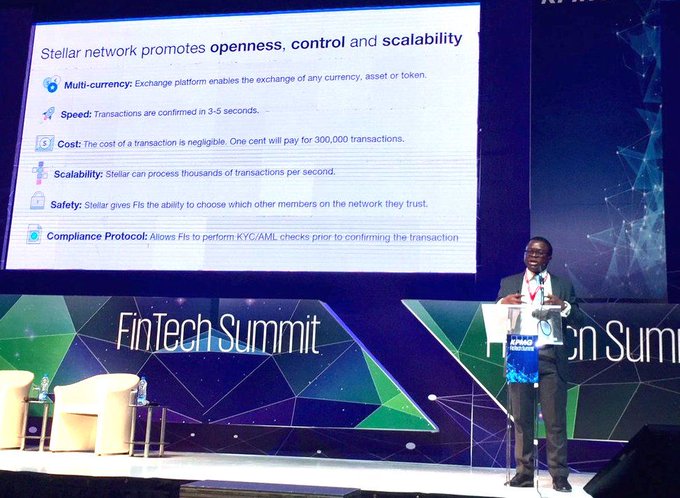 KPMG FinTech Summit 2016. The summit attracts a variety of top level decision makers and audiences from across West Africa's leading financial service institutions – specifically banks, insurance companies, private equity and venture capital firms, and regulators amongst other stakeholders with interest in the FinTech space. The FinTech Summit comprises conference sessions featuring KPMG and industry thought leaders, demo sessions by FinTechs and networking opportunities.
Areas focused on this year's KPMG FinTech Summit are:
Financial inclusion




Lending and financing




Payments and transfers




Wealth management/ personal finance




Insurance




Blockchain




Cyber Security




Customer Analytics



The Summit features presentations and panel discussions facilitated by KPMG and industry thought leaders, as well as Fintech demo sessions and networking opportunities.
The Keynote Speaker was Warren Mead – Partner & Global Co-Head of FinTech KPMG.
Partner & Head of Advisory Services, KPMG Nigeria
Founder & CEO, Casava
Co-founder & CEO, Paystack
 Partner & Head, Financial Services Sector, KPMG Nigeria
 Co-founder & CEO, KiaKia
Dapo Okubadejo, Partner & Africa Head
 Deal Advisory and Private Equity, KPMG Nigeria.
 CEO, Matchi
 Co-founder & CEO, Amplified Payment Systems Limited
 Software Architect, Ezmcom
 Co-founder & CEO, SnapCredit
 Head of Partnership, Stellar
Quote:

Tunde Ladipo



[img=150x0]http://kpmgfintechsummit.com/wp-content/uploads/Stellar-Profile-Picture-Tunde-Ladipo-150x150.jpg[/img]
Tunde advises Stellar in Nigeria.
Tunde was the Country Director for the Tony Blair Africa Governance Initiative (AGI) in Nigeria, an initiative which supports African Leaders and Governments turn their visions for development into reality. He also serves as interim Chief Operating Officer for the Development Bank of Nigeria (DBN)
He was special advisor to the Coordinating Minister for the Economy and Minister of Finance on special projects. Prior to this role, he was investment advisor to the Liberia National Investment Commission (LNIC) helping facilitate investments in energy,  telecoms, agriculture and transportation.
 Senior Sales Consultant, NetGuardians
 Partner & Head of FinTech, KPMG Nigeria
Check Out Some of The Event Pictures Below: