Teenage bitcoin millionaire Erik Finman has another proclamation for the world's biggest cryptocurrency. | Source: YouTube/TED
By CCN: Teenage bitcoin millionaire Erik Finman has once again thrown himself into the spotlight by claiming that the flagship cryptocurrency 'will die' unless the sticky issues it is facing are resolved.
Speaking to Yahoo Finance, Finman indicated that the sticky issues plaguing Bitcoin are four. This includes its complexity with regards to use, high transaction fees, slow processing speeds and in-fighting among development teams.
Quote:

It's facing four big problems. One, its high transaction fees. Two, it takes a long time you know to kind of send anything. And then three, the people that are trying to solve those problems… it's fragmented, it's cultish, it's really kind of a lot of group in-fighting. And I think the fourth one is it's really hard to get into bitcoin. It's really not easy.
WHAT BITCOIN NEEDS TO DO
Even before the interview, Finman has been highlighting Bitcoin's problems on social media.
Quote:
ERIK FIN

@erikfinman

 · May 17, 2019


I predicted in December that Bitcoin is Long Term Dead (crypto is here to stay) & there will be more upswings before it died

So you should buy

If you followed my advice and bought 5 Bitcoins back then. You would've made $20,000 in gains

Make sure to not just read the headline.
Quote:
ERIK FIN

@erikfinman

If Bitcoin wants to not die it needs more than speculation:

1. Solve Speeds
2. Solve Transaction Fees
3. For the ppl working on the above to stop being cultish
4. Have an EASY on ramp for new users —this is the biggest problem

I'm getting so irritated I might just fix it!



36


2:21 AM - May 17, 2019


Twitter Ads info and privacy
According to The Guardian, Finman first purchased bitcoin when he was 12. This was after being gifted $1,000 by his grandmother. Over the years Finman, who is now 20, has been trading cryptocurrencies managing to grow his holdings to 458 bitcoins. At the current prices, this hoard is worth about $3.6 million.
During the same interview with Yahoo Finance, Finman stated that bitcoin's future as the leading cryptocurrency was not guaranteed. According to Finman, bitcoin is 'facing a lot of stiff competition and I think it really has to respond to that'.
'BITCOIN IS DEAD' BUT STILL HODLING
Finman also revisited his controversial statement in December 2018 during which he said that in the 'long-term' bitcoin 'is dead'. The crypto whizz kid defended the statement explaining that despite the prediction he still expects the cryptocurrency to 'have more ups, it would have maybe one or two, three more bull runs'.
Quote:


CCN.com

@CCNMarkets




Teenage Crypto Millionaire Erik Finman Says Bitcoin is Pretty Much Dead, Offers Hope for Bitcoin Cash http://www.ccn.com/teenage-crypto-millionaire-erik-finman-says-bitcoin-is-pretty-much-dead-offers-hope-for-bitcoin-cash/ …



47


3:11 AM - Dec 18, 2018
Twitter Ads info and privacy

Teenage Crypto Millionaire Erik Finman Says Bitcoin is Pretty Much Dead, Offers Hope for Bitcoin...
Erik Finman, a teenager who became filthy rich during the Bitcoin boom, has now issued a warning to Bitcoin maximalists, the term given to those who believe in the Bitcoin revolution, that the...


ccn.com
Last week in an interview with MarketWatch, Finman had raised the same concerns regarding Bitcoin. He even went a step further and said Litecoin was likewise afflicted. Without mincing words, Finman had said that the altcoin had 'been dead for a while'. This was evidenced by the fact that it had declined by over 95 percent since its record high.
Despite the pessimistic view, Finman is bullish on blockchain technology as a whole. So much so that he repeated another headline-grabbing statement he had made in January last year. Then he had said that one could become a millionaire by investing in blockhain and bitcoin.
FINMAN: INVEST IN BLOCKCHAIN AND CRYPTO AND BECOME A BILLIONAIRE IN 10 YEARS
This time around, he added that anyone who failed to become a billionaire by investing in blockchain and cryptocurrencies in 10 years would only have themselves to blame.
View image on Twitter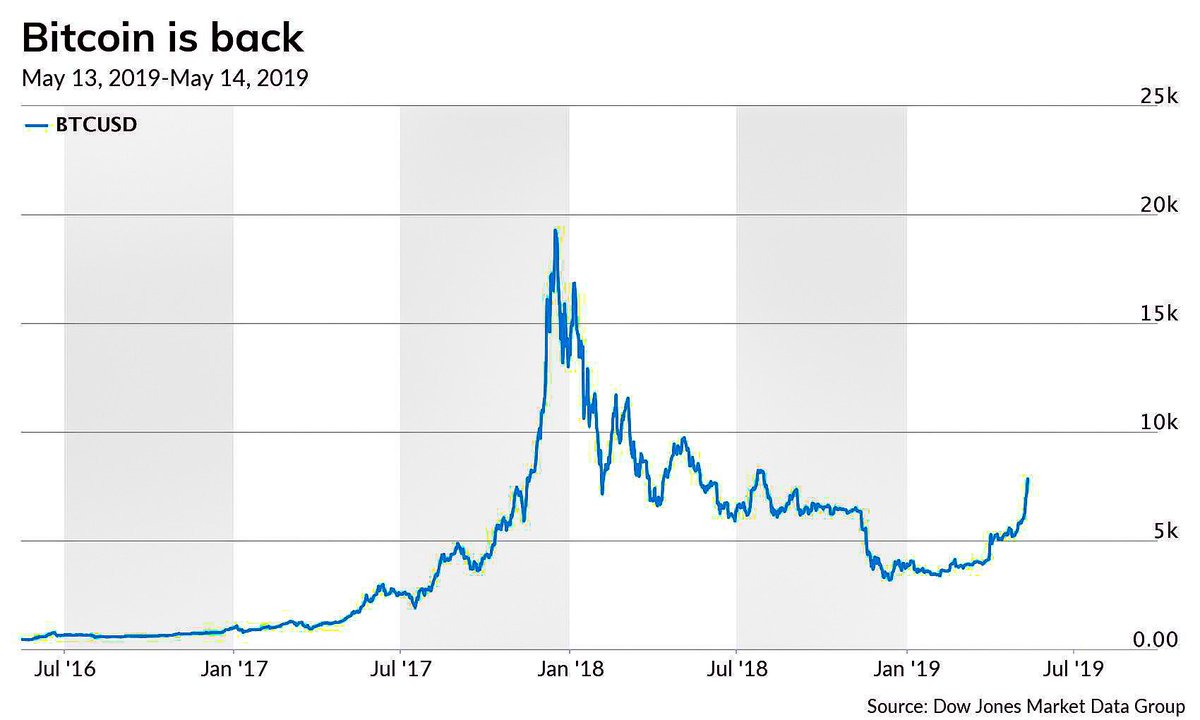 Quote:


Mo Hossain

@MoHossain




'If you're not a billionaire' in 10 years 'it's your own fault,' says 20-year-old bitcoin tycoon

https://www.marketwatch.com/story/if-youre-not-a-billionaire-in-10-years-its-your-own-fault-says-20-year-old-bitcoin-tycoon-2019-05-14 …

$BTC

$btcusd

#ethereum

#ETH

#LTC

#Zcash

#bitcoin

#Ripple

#sec

$XMR

$XRP

$ZEC

$LTC

#AML

#SEC

#ICO

#fintech



5


7:23 AM - May 16, 2019
Among the cryptocurrencies that Finman sees as having the best chances of success include Ethereum and ZCash. In the MarketWatch interview, Finman also praised Bitcoin Cash's technology though he felt it had been poorly marketed.
But even though Finman thinks Bitcoin doesn't have bright prospects if its shortcomings remain unresolved, he has committed to being a hodler for the foreseeable future. He expects the cryptocurrency to have 'one more big rally at least'. Only then will he be ready to dispose of his bitcoin hoard.