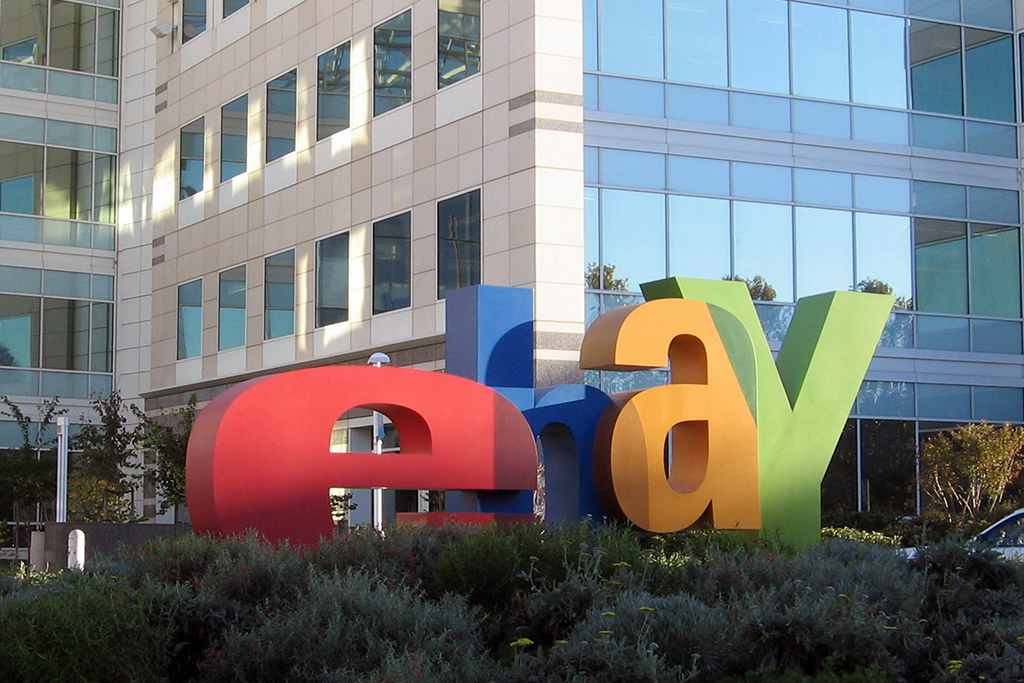 eBay, the US-based e-commerce behemoth, is rumored to make a foray into crypto after its Consensus ads recently leaked online. If eBay does open arms for crypto payments, it could be a boon for adoption.
Today few photos emerged on Twitter that show that one of the world's largest online marketplaces 

eBay

, may be open to the possibility of accepting cryptocurrencies.
According to photographs of marketing material from the ongoing 

Consensus 2019 Conference

 in New York, eBay, which has 180 million users, is actively pursuing crypto payments.
Quote:


wolf

@ImNotTheWolf

 · 16h


"Leaked from Consensus, eBay possibly announcing the support of cryptocurrencies on their website." - @PatronsOfTheMoon Telegram.

#share

#bitcoin

#cryptocurrency

Quote:


CRYPTO ENTHUSIAST

@CRYPTOgraph_ER


Yes and the coin which is supposed to be supported is none other than $bnb



8


5:09 AM - May 13, 2019


Twitter Ads info and privacy
It's still not known what this is exactly about, but it seems that one of the annual event's major sponsors this year, is deliberately targeting attendees' imagination. However, there are being some unconfirmed rumors that eBay will accept 

Binance Coin

. If we know that 

Amazon

 already 

accepts

 Bitcoin Cash (BCH), that scenario may be quite sure to happen.
Quote:


Bleeding Crypto

@Bleeding_Crypto

 · 16h


NOT CONFIRMED but this guy say that their are talks about

$BNB

integration with EBay. Does anyone have any info on this?

@cz_binance

can you confirm or is this rumor. Say "No comment" if true. Thank you.


CRYPTO ENTHUSIAST

@CRYPTOgraph_ER
Replying to @ImNotTheWolf @Bleeding_Crypto
Yes and the coin which is supposed to be supported is none other than $bnb
Quote:


Jason McDonald

@JasonMc40699353


This would be huge for me and my Ebay business.  Would love to not pay PayPal 2.9%. Please say it's so.



6


5:16 AM - May 13, 2019


Twitter Ads info and privacy
"Virtual Currency. It's happening on eBay," reads one giant ad, without giving any further information.
Two Possible "Third Party" Solutions?
Deliberately or not, the fact remains that at the end of the last year, crypto payments platform UTRUST had 

employed

 former 

PayPal

 and eBay executive Sanja Kon as the Vice President of Global Partnerships.
UTRUST bills itself as the 'world's first' crypto payment solution to offer instant transactions, buyer protection and crypto to cash settlements.
Could it be that the one of the first partnership Kon would attempt to make, would be at the company she was a senior executive at for five years?
There is also Moon, a crypto payment processing startup's service that recently 

announced

 that Coinbase users can shop on Amazon by paying with 

Bitcoin

, 

Litecoin

, 

Ethereum

, and 

Bitcoin Cash

 via the Lightning Network technology.
After independent developers pushed cryptocurrencies closer to giants such as Twitter and Whatsapp, Moon obviously built a bridge towards online retail giant Amazon and is targeting other e-commerce incumbents such as eBay and Ali Express.
However, from the company they said:
Quote:

"Soon you'll be able to shop on any of your favorite e-commerce websites, like eBay, Ali Express and Target."
Also, we shouldn't forget the fact that eBay has been considering accepting Bitcoin and other currencies for quite a while.
In December 2017 Scott Cutler, Senior Vice President of eBay Americas 

told

 Yahoo Finance the eCommerce retailer is considering accepting bitcoin payments:
Quote:

"This is a trend that everybody is talking about, but sadly, at eBay, we don't currently accept bitcoin as a form of payment. We're seriously considering it as these cryptocurrencies become more of a mainstream payment instrument, but we're not quite there yet."
Other Companies and Retailers Interested in Crypto as Well
Last week, the CFO of PayPal, John Rainey, publicly 

said

 that it is also too early for PayPal to start using BTC transactions due to the high volatility of the market. Besides, he added that the top management team is more excited by blockchain itself rather than Bitcoin.
On the other hand, 

Overstock.com

, the one-time Amazon competitor, was the first major retail company in the US to 

jump on the Bitcoin trend

. Apart from accepting Bitcoin, Overstock also allowed its customers to purchase Bitcoin directly from their website with the help of Bitsy.
The rally has been driven by signs that big corporates are interested in using cryptocurrencies and blockchain technology.
JPMorgan, whose CEO famously slammed Bitcoin as a fraud, announced in February that it was 

launching its own cryptocurrency 

for internal payments dubbed "JPM Coin." JPMorgan head of blockchain Umar Farooq said at the time that clients had been asking for the product.
We were also 

reporting

 that 

Facebook

 is secretly working on a cryptocurrency-powered payment product.
Corporate interest is well reflected in Consensus' list of sponsors among which are crypto companies, major financials such as 

Citi bank

 and 

Fidelity

 and tech giants like

Microsoft

, 

IBM

 and Amazon Web Services.
Virtual Currency Actually Exist on eBay
However, there might be a catch in which case, this whole story is worth nothing. The phrase: "Virtual Currency. 
It's happening on eBay" could simply mean that you can trade (buy and sell) virtual currencies through eBay.
In fact, the category called "Virtual Currency" already exists on eBay and it offers users an anonymous way to buy and sell cryptocurrency for fiat. So, it could just be a clever PR solution after all.