It's becoming impossible to ignore the growing sentiment around the cryptocurrency ecosystem. Sooner or later many major corporate entities will realize the magnitude of cryptocurrencies. Until then, here are 6 major companies that are already working with crypto...
We are still in a bear market, prices are averaging a discount of 80% across the board, and although waves of sentiment are willing the tides to change, nothing yet points to a perceivable end to the crypto winter; and yet, rates of adoption and development are higher than ever.
The promise of institutional investment has tantalizingly lingered over the industry for a while now but has yet to efficiently materialize, conversely, the opposite is true for commercial interest, with investment and involvement from several companies flooding in left, right and center.
So who's already on board?
First up,
Starbucks
Coffee for crypto has been the quasi-holy grail for the industry in its search for mainstream adoption, a point at which we officially hit critical mass. It seems that point may be approaching faster than anticipated ...
When the Iintercontinental Exchange announced Bakkt last year the hubbub was extreme (to say the least). The announcement that Starbucks had partnered with the initiative pushed things to a new level. Suddenly coffee for Bitcoin appeared to be actually on the cards.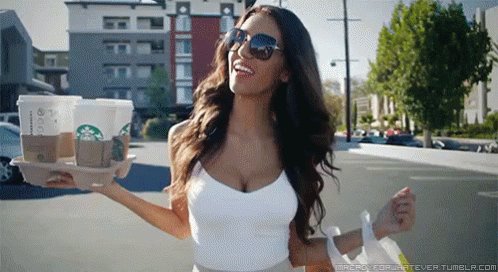 Quote:
Panama Crypto @Panama_TJ



"Starbucks along with Intercontinental Exchange, Microsoft and BCG, among others, is working to launch a new company called Bakkt that will enable consumers and institutions to buy, sell, store and spend cryptocurrencies on the global network by NOVEMBER."



40


9:30 PM - Aug 3, 2018
(unfortunately, the November deadline was delayed, 

again

, and 

again

)
When Bakkt (finally) launches, Starbucks will become the first merchant on the platform, facilitating crypto payments for both coffee and many other products.
While it's been noted that Starbucks won't actually process any cryptocurrency - instead simply converting crypto into fiat instantly -  this still stands as a massive step in the right direction and provides yet another use case for cryptocurrencies in everyday life.
And let's face it, facilitating crypto payments is one step away from fully accepting cryptocurrencies anyway …
Next up,
Samsung

:
Rumors of Samsung entering the crypto industry started circuiting back in December last year, when it was discovered that Samsung had applied for several trademarks, including terms such as 'Blockchain KeyStore,' 'Blockchain key box' and 'Blockchain Core', all filed under the keyword 'smartphone'… some geniuses put two and two together, and the speculation spread.
Samsung denied these rumors as little more than speculation, but less than a month later the firm filed for a patent, this time for:
"Computer software for use as a cryptocurrency wallet"
Fast forward to last week Samsung unveils the S10 and (surprise, surprise) it incorporated private key storage. 
Things only seemed to escalate from there with further rumors of a crypto wallet powered by Enjin, supporting Bitcoin and a plethora of Ethereum ECR- 20 tokens. 
Moreover during an official presentation Samsung unveiled the integration of decentralized app (dApp) support, along with a host of pre-designated dApps ranging from the hugely popular Cryptokitties, Enjin's crypto gaming platform, and Cosmee's beauty content platform, to a payments service known as CoinDuck -  a cryptocurrency 
payment service provider, enabling offline payments of Ether. 
Up next
Facebook:
Everyone's favorite centralized spying corporation social media platform is entering a community which holds completely contrasting ideas on centralization, and privacy, all for a massive payday… still, all publicity is good publicity, right?
Facebook is allegedly set to launch Facebook coin, Facecoin, Zuckbucks, Coinface or 
whatever it's going to be called
, at some point in the first half of 2019, which means only one thing... it must be coming pretty damn soon. 
Quote:


Uvas[BTC Extremist]

@uvas23



Replying to @pierre_rochard

Hodl zuckbucks!



2


4:16 AM - Mar 3, 2019


Twitter Ads info and privacy
The intention behind this foray into crypto is to offer a stablecoin like digital asset pegged to a basket of different global currencies. Facebook coin will apparently work as a payment solution, integrated to Facebooks various messaging platforms, including, Whatsapp, Instagram and of course, Facebook Messenger.
Essentially what Facebook has in store is a glorified stablecoin, offering not much more than another method of payment from a company with a pretty shady past…
Despite the community concerns and Facebooks previous fumbles with user data, this new venture shouldn't be underestimated. Facebook has more than 3 billion active users, as well as a budget to proliferate crypto far and wide, in turn, this will most likely switch people on to the myriad of benefits from other, more established cryptocurrencies. 
Next, from Zuckerberg's grubby fingers to the altruistic mind of Jack Dorsey and his financial services company…
Square:
Square was one of the first major companies to see the benefits in crypto, realizing their potential all the way back at the start of 2018, when the firm enabled the buying and selling of Bitcoin through it's Cash App:
Quote:
jack

@jack




Instant buying (and selling, if you don't want to hodl) of Bitcoin is now available to most Cash App customers. We support Bitcoin because we see it as a long-term path towards greater financial access for all. This is a small step.

We also made this! https://cash.me/bitcoin 



7,996


11:46 PM - Jan 31, 2018 · California, USA
Twitter Ads info and privacy

Cash App - Bitcoin
Instantly buy and sell Bitcoin with the Cash App. Learn about what Bitcoin is, how Bitcoin works and more about cryptocurrency from Square's Cash App.


cash.app
This small step has since snowballed into a giant leap for Jack Dorsey, CEO of Square who has become a somewhat prominent propagator of Bitcoin, heralding it as a native internet currency.
With Dorsey's bullish sentiments on overdrive, and with Square firmly in his pocket, the CEO has taken upon himself to develop Bitcoin further with the recent announcement of Square crypto; an initiative aiming to provide compensation to pro-bono developers of Bitcoin and other crypto ecosystem devs:
Quote:
jack

@jack






#BitcoinTwitter

and

#CryptoTwitter

! Square is hiring 3-4 crypto engineers and 1 designer to work full-time on open source contributions to the bitcoin/crypto ecosystem. Work from anywhere, report directly to me, and we can even pay you in bitcoin! Introducing

@SqCrypto

. Why?



12.1K


4:58 AM - Mar 21, 2019


Twitter Ads info and privacy
This venture appears to be fairly altruistic in its nature, simply a way for Dorsey to expedite the development of what he believes to be the future of currency.
Last, but not least:
IBM
The IT giant IBM was another major company to jump into the crypto space early, partnering with Stellar back in October 2017 after successfully piloting a cross border transaction using XLM.
Fast forward to September 2018 and IBM and Stellar had realized a fully functioning version of their pilot tests called "World Wire", a system which utilizes the Stellar blockchain to settle and clear cross border payments using digital currency.
Last month, Jesse Lund - IBM's head of blockchain solutions - let slip that 30-40 banks across 50 countries would be on-boarded to the joint venture:
"We've got a launch announcement coming out soon... we're going to be supporting more than 50 countries out of the gate, 30-40 currencies, and enough market makers to drag along 30 or 40 banks, so we'll have a significant portion of the world covered," explained Lund.
The payment system works much the same as any other peer to peer crypto transaction except on a larger scale.
In order to use World Wire transacting institutions must agree on a transfer currency, also known as a "bridge currency." options include either a stablecoin issued by IBM, or a cryptocurrency (including XLM).
So far, six international banks have signed letters of intent to use World Wire, including, Philippines-based RCBC, Brazil's Banco Bradesco, and Bank Busan of South Korea, and with 40 more to come the joint venture appears to be well on its way to becoming a notable rival of both SWIFT and Ripple.
So there we have it, 6 majorly notable companies already knee deep in crypto ventures, all likely to participate much further in the years to come. But who will be next? Apple? Amazon?