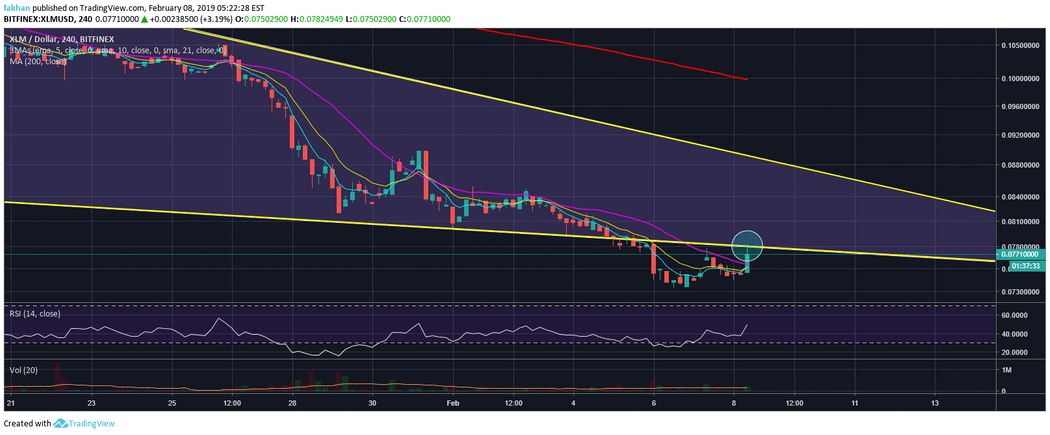 Stellar (XLM) has faced a strong rejection once again at the previous support turned resistance. The price has already faced rejections more than three times revisiting this level. This goes on to show that the price may have a hard time moving in with the rest of the market as long as this level is not breached. This is a difficult situation for 

XLM/USD

 considering it recently experienced an aggressive sell off which made it perhaps the only coin to have stooped to a new low in 2019. Most of the cryptocurrencies are still significantly above their December, 2018 low whereas Stellar (XLM) is significantly below it. This recent sell off that saw XLM/USD decline below critical support levels is believed to have been a reaction to the Stellar Development Foundation's alleged dumping of their own coins on Kraken and Binance.
The transactions can be seen by anyone as they are recorded on the ledger. While it is not unusual for blockchain projects to sell their own tokens to fund operations, it was unusual that Stellar Development Fund dumped millions of XLM tokens at a time when the price was already under pressure from the bear market. Perhaps, the team was afraid of further sell-offs and wanted to protect themselves in case of further declines but considering that Stellar (XLM) is among the top ten largest cryptocurrencies by market cap, it would be very unusual to presume that they are that unaware of market movements. A lot of Stellar (XLM) supporters have downplayed this development by calling it a rumour but it is all recorded on the ledger which anyone can see

 here

.
Why Stellar (XLM) transferred 40,000,000 XLM tokens from their SDF (Stellar Development Fund) account to Binance and Kraken on January 21, 2019, we may never know. However, the one thing that we do know is that it had a strong impact on the price of Stellar (XLM) in the weeks that followed and investor confidence stooped to a new low along with the price. Maybe the Stellar Team would be in a better position to say whether it has been worth it. However, the way we see it, it made a lot of problems for the price which means that Stellar (XLM) will continue to struggle to break past the previous support turned resistance even as the rest of the cryptocurrencies rally with Bitcoin (BTC).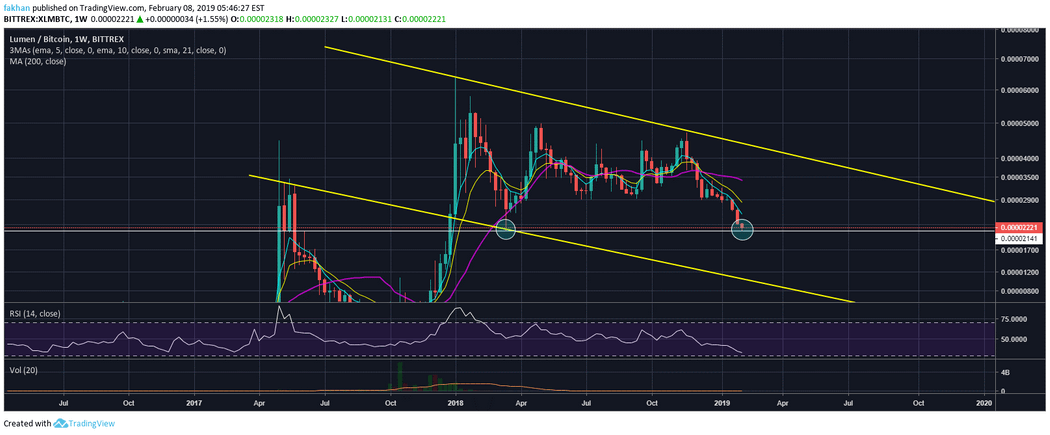 The weekly chart for XLM/BTC shows that Stellar (XLM) has now formed a double bottom against Bitcoin (BTC). The price cannot afford to decline against Bitcoin (BTC) below current levels. If that happens, there is nothing stopping 

XLM/BTC

 from falling all the way down towards the bottom of the descending channel. This double bottom is all the support Stellar (XLM) has to attempt to break out towards the trend line resistance towards the top of the channel. Judging by the price action, it is unlikely to break past it and will likely be met with strong resistance.
That being said, Stellar (XLM) is a very promising project with a lot of long term potential. In fact, we have mentioned many a time during our previous analyses that Stellar (XLM) is better positioned than Ripple (XRP) to ultimately dominate the cross border payments industry because it cuts out the middle man and empowers the end user. Interest in Stellar (XLM) is also on the rise with new brokers listing XLM pairs. A lot of Dapps are also waiting to hold their ICOs on Stellar's stable, secure and compliant blockchain once the market recovers.